Unitile Raised Access False Floor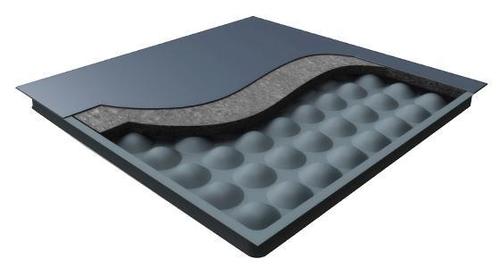 Unitile Raised Access False Floor
Price And Quantity
Product Specifications
30 Millimeter (mm)

Easy To Install, Waterproof, Low Noise Emission
Product Description
We are manufacturer and supplier of high-quality Unitile False Floor, Unitile Raised Access Floor, Unitile Flooring, False Flooring, Access Floor & Raised Access Floor from Delhi, India. We are manufacturing and supplying Unitile Raised Access Floor, Unitile Flooring, False Flooring, Access Floor & Raised Access Floor to various cities like, Ghaziabad, Noida, Greater Noida, Faridabad, Delhi, New Delhi, Sonipat, Panipat, Jaipur, Neemrana, Ambala, Pontasahib, Jammu, Agra, kanpur, Lucknow, Gorakhpur, Ranchi, Patna, Rohtak, Jhansi, Dehradun, Haridwar, Moradabad, Meerut ,Patna ,Bihar etc.
Unitile False Floor, Unitile Raised Access Floor, Unitile Flooring, False Flooring, Access Floor & Raised Access Floor offered by us is used in data center companies ,modular office floor,training room floor ,data center flooring etc .
Unitile is a company that specializes in manufacturing raised access flooring solutions including their popular Unitile Raised Access False Floor Raised access floors are a type of flooring system commonly used in commercial buildings data centers server rooms and other spaces where there is a need for easy access to electrical data and mechanical systems that run underneath the floor The Unitile Raised Access False Floor is designed to provide flexibility functionality and efficient management of building services Here are some key features and aspects of Unitile Raised Access False Floors
Features and Benefits
1 Modularity The raised access false floor system from Unitile is modular meaning it consists of individual panels that can be easily interchanged and reconfigured as needed This modularity allows for flexibility in designing the layout of the space and adapting to changes in technology and infrastructure
2 Cable Management One of the primary purposes of raised access floors is to create a space beneath the floor where cables wiring and other utilities can be organized and hidden The Unitile system features builtin cable management solutions including cable ducts grommets and openings that make it easier to route and manage cables
3 Flexibility The system allows for the easy installation and relocation of power outlets data ports and other services making it convenient to adapt the layout for changing needs
4 Aesthetics The panels used in Unitiles raised access floor systems are available in various finishes including highpressure laminate vinyl and carpet This allows for a seamless integration of the raised floor with the overall interior design
5 Air Distribution In spaces where air conditioning and ventilation are essential raised access floors can provide a pathway for air distribution Perforated panels and air diffusers can be incorporated into the system to ensure proper ventilation
6 Accessibility The false floor system provides easy access to the services and utilities underneath which is particularly important for maintenance repairs and upgrades
7 Sound Insulation Raised access floors can contribute to sound insulation by providing an additional barrier between different levels of a building
8 LoadBearing Capacity Unitiles raised access floor panels are designed to support various loads including the weight of equipment furniture and people
9 Fire Resistance The panels used in the system are often designed to meet fire safety standards contributing to the overall safety of the building
Applications
Unitile Raised Access False Floors are commonly used in various settings including
Office Spaces They allow for flexible workspace layouts and easy reconfiguration of power and data connections
Data Centers Raised floors in data centers provide efficient cable management and cooling solutions
Server Rooms Similar to data centers server rooms benefit from the organization and cooling capabilities of raised floors
Control Rooms Raised floors in control rooms facilitate the management of cables and provide a comfortable and adaptable environment
Commercial Buildings In larger commercial spaces raised access floors can offer versatile solutions for managing utilities and services
Unitile and other companies in the raised access flooring industry offer different types of systems finishes and accessories so its important to consult with professionals to determine the best solution for your specific needs
Please call for best rate of Unitile False Floor .
Trade Information
Letter of Credit (L/C), Cash in Advance (CID), Cheque

20000 Per Month
Sample costs shipping and taxes has to be paid by the buyer

Himachal Pradesh, Jammu and Kashmir, Uttarakhand, Delhi, North India, Punjab, Uttar Pradesh, All India